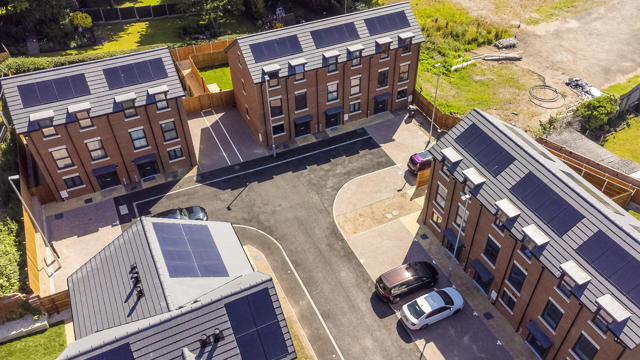 Midland Heart is delighted to announce that their Project 80 developments have been shortlisted for Energy Project of the Year – Residential, at the Energy Awards 2022.
Project 80 comprises an initial development of 12 family homes in Handsworth, with a further 12 maisonettes in Edgbaston currently under construction. The first residents moved into their new, affordable, eco-friendly homes in Handsworth last month and have gone through training to understand how the technologies will work in their homes.
Built in partnership with Tricas Construction Ltd, Project 80 is delivering the first homes built to the Future Home Standard, meaning the homes will produce up to 80% less carbon than those built to current standards. The homes model how to do this in 3 different ways, using different technologies.
The residents' experience of living in the homes is being researched by Birmingham City University – with the results to be published to influence government policy and provide a model that SMEs (and larger developers) can adopt to produce healthy and sustainable homes in 2025 and beyond.
Midland Heart's Director of Development, Chris Miller, said:
"We are delighted that Project 80 has been recognised by being shortlisted for an Energy Award. It is a real recognition of all the hard work that has gone into developing and building these homes. Winning the award would be a real feather in our cap and help us to promote what we have learned from this fantastic project."
The awards take place on Wednesday 29th June 2022